Lorena Angell
Author of Young Adult Supernatural Fantasy & Romantic Suspense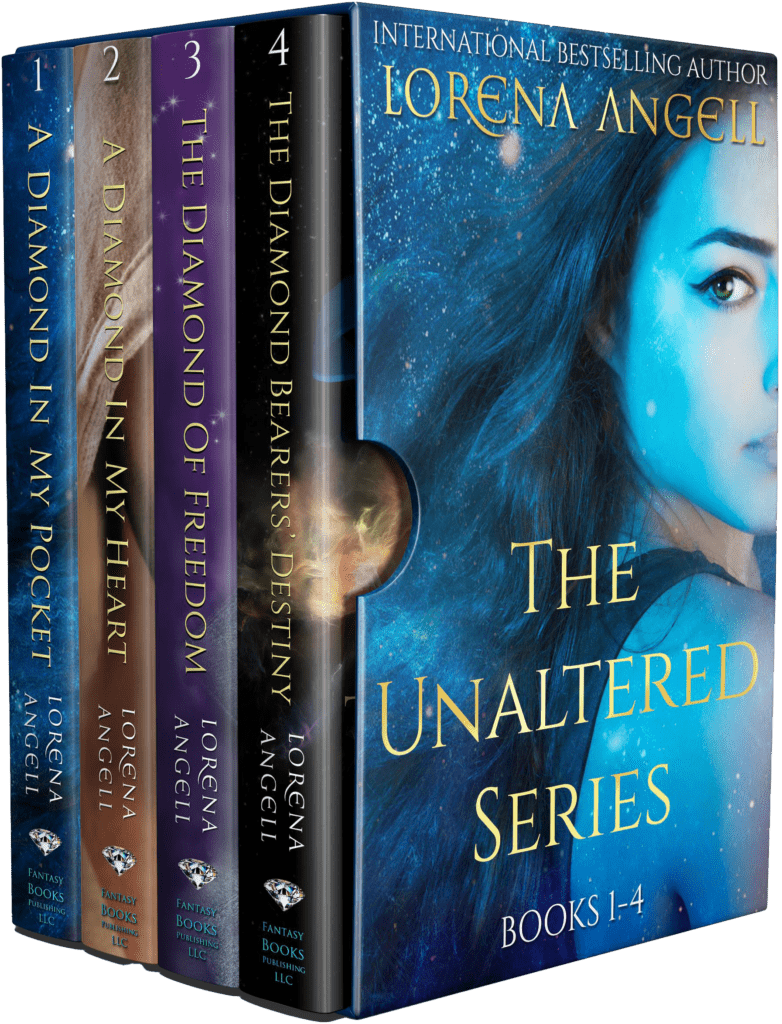 The Unaltered Series
"This story caught me immediately, bringing to life an exciting and excellently paced story filled with well drawn characters and a boatload of suspense. This was a great start to what promised to be an exciting series."
- David Wind, Best Selling author of 39 novels of Science Fiction & Fantasy, Mystery, Suspense and Thrillers.
All seven books in THE UNALTERED SERIES are Amazon Best Sellers.
A Diamond in My Heart is an Amazon #1 Best Seller in the US, UK, India, and Germany.
The Diamond of Freedom is an Amazon #1 Best Seller in the US and the UK.
Apple's iBookstore named A Diamond in My Pocket as a Breakout Book in Feb. 2013.
325,000 downloads and print books from 51 countries collectively through iTunes, Amazon, Kobo, Barnes&Noble, Smashwords, Scribd, Inktera, Sony, Oyster, BakerTaylor, Diesel, Library Direct, Overdrive, Tolino, Nook Press, and IngramSpark.​
About Lorena Angell
I grew up in a small town in southeast Idaho with a view of the Grand Teton Mountains out my front window and a huge garden out back that always "needed to be weeded."
I'm from a large family with many siblings. I think it goes without saying that there was never a dull moment growing up. I enjoyed plenty of neighborhood baseball games on the weekends and playing "No bears are out tonight", a night-time hide-and-seek game during the summer months. Winters were harsh, but the deep snow made for lots of sledding, skiing, and snowmobiling opportunities.
Know More
Available Only on KindleUnlimited:
The Unaltered Series
Box Set, Books 1-4
YA Series: A Fresh Take on Supernatural Powers and Abilities in this YA Fantasy Box Set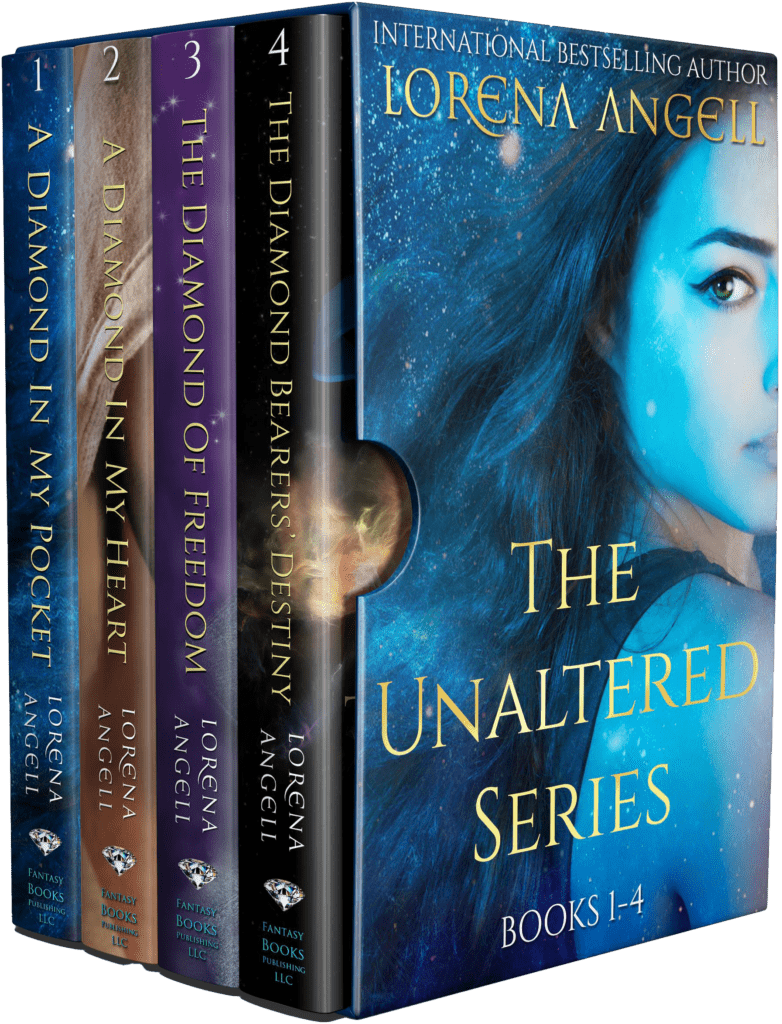 The Unaltered Series Box Set
Science-minded bookworm, Calli Courtnae, astonishingly wins the 100m for the first time at her track meet, breaking the world record. After a whirlwind of excitement and being whisked off to Montana to train for the Olympics, Calli learns nothing is as it seems. While trying to wrap her mind around her new world and new superspeed ability, Calli comes into possession of a mystical diamond containing several other supernatural powers including future sight. Her first alarming vision reveals she will be responsible for many deaths in the coming days. Calli cannot fathom how she could possibly make such a choice, so she sets out to change the future, harnessing the powers within the diamond in her pocket, determined to prevent the future she's seen from coming true.
The stakes are raised when she realizes she simply cannot save everyone, and the choice of who lives and who dies will ultimately be on her shoulders. Will Calli figure out the best choice resulting in the least amount of death before the clock runs out?
Fans of Veronica Roth and Marie Lu will enjoy this series, which includes:
Paranormal Romance
Urban Fantasy
Coming of Age
A World Within Our Own
Powerful Crystals and Diamonds
Government Spies
Supernatural Terrorists
Download The Unaltered Series box set today and start a spellbinding, unputdownable, wild ride riddled with immortal Illuminati-esque shadowy figures bent on controlling the world, government counter-operations, and twists and turns that will have you questioning everything.
Box set includes bk. 1- A Diamond in My Pocket, bk. 2- A Diamond in My Heart, bk. 3- The Diamond of Freedom, and bk. 4- The Diamond Bearers' Destiny.
The four-book set is a complete storyline, while also setting up for the following books 5-8. Book four is not a cliffhanger. Recommended for ages 13+.
"Angell has a firm grasp on storytelling, effectively escalating tension and revealing key plot points organically."
The BookLife Prize
PUBLICATIONS
Explore Lorena Angell Books
Paperback – 5.5 x 0.64 x 8.5 inches
YA Fantasy Series with a fresh take on…

Paperback – 5.5 x 0.62 x 8.5 inches
Who can Calli trust, or who just wants…

Paperback – 5.5 x 0.6 x 8.5 inches
Calli is caught up in a fight to…
See All Books
Contact Lorena Angell
Author of Young Adult Paranormal Fantasy and Young Adult Romantic Suspense
I enjoy helping other authors work through the struggles of success on the Internet. I also love helping young writers with suggestions and encouragement. If you'd like to pick my brain, feel free to drop me a note using the contact form. I'll do my best to respond promptly.
Contact Me